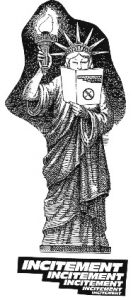 INCITEMENT is the ADAPT newsletter. It is published several times a year, usually following a major ADAPT action or event.
To subscribe send your name address and phone number to:
INCITEMENT
c\o ADAPT of Texas
1640 E. 2nd ST. Ste. 100
Austin, TX 78702
Email: adapt@adapt.org
or
FAX: 512-442-0522
Donations are VERY welcome.
INCITEMENT is available on cassette tape for those who do not read print. If you need INCITEMENT on tape, please let us know! We need your name, address and phone number please!
INCITEMENT WANTS YOUR NEWS!
Have you been fighting to FREE OUR PEOPLE?
For More Attendant Services?
For Better Access?
For other kinds of Disability Rights?
Send us an email, a short article, even a flyer or news clipping…